Services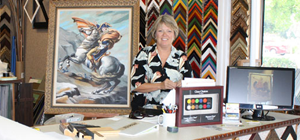 Custom Framing
When your art print, canvas, poster, flag, jersey or any odd shape or size item needs framed, we can build a custom frame, shadow box or display case to protect and preserve it beautifully.
Canvas stretching
We do all forms of canvas stretching for framing or Gallery Wraps ready to hang.
Floater Frames
Unlike traditional framing, the "new" Floater frames offer a unique look to stretched canvases.
Free design service
We are happy to work with you to design your masterpiece. Bring in samples of wall paper, fabric, paint or digital photos of your room and we will help coordinate the job.
Mirror Framing
We can custom frame your existing mirrors or provide custom size mirrors and framing for your needs. Do you have a mirror glued to your wall that you would love to have framed but can't remove it? We have a unique line of mouldings designed to attach to the face of a mirror without having to remove the mirror from the wall.
Round or Oval Frames
These can be special ordered in a wide variety of custom shapes and sizes.
Rush Jobs
Special needs are handled graciously. We have been know to help someone the same day or over night in special cases. Our regular turn around time for framing is 10 working days.
Free Pick Up and Delivery
If you have an over-sized job we can pick it up from your location and deliver it.
Corner Mouldings and Mat samples
We display over 3000 corner moulding samples in our design showroom. To help you decide on "just the right" moulding and mat for your custom frame you may take samples home to see them in your room setting and light.
No job to small
We will do any part of the job for you, sometimes you may only need a new mat to freshen up an old piece. See what we can do to give new life to an older framed item.
Repairing or Restoring of Frames
Sometimes it is less expensive to fix your existing frame versus buying a new one or restoring a family heirloom frame that is damaged. Since we cut and join our frames we are capable of repairing as well, consult with us if it is possible and cost efficient to do so.
Glass Repair
We offer many types of framer grade replacement clear glass, non-glare glass as well as clear and non-glare nu-breakable framers grade acrylic. All our glazing products are UV protected to protect your investment from fading.
Hanging Service Available
If you wish to have an expert hang your framed items we can provide this service for a reasonable cost.
Art Repair
Damaged acrylic or oil paintings might be restartable. We have a nationally renowned artist that is able to do restoration of canvases. Consultations are available by appointment only.
Specialty Matting
We offer thousands of color mats, all acid free. We also carry complete lines of specialty mats including gold and silver foil, linen, bamboo, suede, and textured. We can also custom make mats out of your fabric or wallpaper to further enhance your decor.